Hello



I'm sending this updated edition of yesterday's Thorne Smith Newsletter to provide more order details for the Easton Press edition of TOPPER that was recently published.

If you already read this newsletter yesterday or today and just want the new info about the limited edition of TOPPER, skip down to the photo of the book. You'll find the new ordering details below it.

Thank you for being a loyal reader of the Thorne Smith Newsletter!!!

Wow! The messages everyone sent after last month's newsletter was published are very much appreciated. I'm not blowing ghostly special effects smoke up your skirt when I say you really do know how to make a fellow Thorne Smith fan feel welcome and appreciated.

Some of you had great suggestions for improving the newsletter and website. I plan on using some of them as soon as possible. If you ever have ideas on things you'd like to see added to the newsletter or website, I'm always eager to hear them.

For this issue, there's three Thorne Smith movies coming up on TCM this month and big news about a new hardcover edition of TOPPER!

Plus there's super cool news about my Thorne Smith mini-biography from 2000 and a special offer for newsletter readers only on how to get a copy. So, make sure to read all the way to the end.

Now, let's get to it!

Issue 011 October 2020

ON THE TUBE

Happy to report that there are three Thorne Smith movies airing on Turner Classic Movies during Halloween month.

On Monday, October 19 at 6:00am EST, TCM is airing I MARRIED A WITCH (1941) the film based on Thorne Smith's final book THE PASSIONATE WITCH, completed posthumously by Norman Matson. The film stars Veronica Lake, Fredric March, Robert Benchley, Susan Hayward and the scene stealing Cecil Kellaway.

On Thursday, October 22 at 2:30pm EST TCM is showing the one and only TOPPER (1937). Starring Cary Grant, Constance Bennett, Roland Young (as Topper), and Billie Burke as Mrs. Topper. Look for Hoagy Carmichael as the piano player, Arthur Lake (better known as Dagwood Bumstead from the BLONDIE movies and TV show) as a hotel porter, and Hedda Hopper as the Toppers' neighbor.

I've mentioned this in past newsletters but will risk you throwing tomatoes at me as I remind you to watch this one and if you have a DVR to record it.

Why???

Because it's the fully restored version of the film and is the best copy of TOPPER out there by a long shot. This print looks fantastic. See for yourself if Turner Classic Movies (TCM) is available in your area.

Immediately afterwards on Thursday, October 22 at 4:15pm EST TCM is running TOPPER TAKES A A TRIP (1939). Roland Young and Billie Burke return as Mr. & Mrs. Topper and Constance Bennett as Marion Kerby. Cary Grant only appears in a flashback scene from TOPPER. I'm looking forward to re-visiting this one because I believe TCM has the best print available of it as well.

Next month I will be using a suggestion from newsletter subscriber, Michele Minor, who asked if I could find info about these movies being available on any of the streaming services.

This is a great idea and I am trying to figure out the fastest way to check all the streaming services out there. Right now I know you can find TOPPER RETURNS available to stream for free in three places:

Amazon Prime

The Film Detective Channel

The Roku Channel

The Roku Channel print is watchable but is not nearly as good as the print shown by The Film Detective Channel or on Amazon Prime.

A NEW HARDCOVER LIMITED EDITION OF TOPPER !!!!!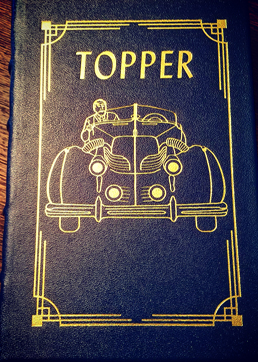 In a crazy roundabout way I recently discovered that Thorne Smith's classic book TOPPER as been republished. There's good news and "bad news" that goes along with it.
NEW UPDATED ORDERING INFO FOR EASTON PRESS EDITION OF TOPPER
Here's the latest I've managed to gather so far.
The "bad news," if you will, is the book has been published in a limited collector's edition and is much more expensive than your average hardcover book. It's going for $74.95 and, I'm told that DOES include shipping.
The good news is it's a very high quality printing done by none other than EASTON PRESS who have a reputation and history of doing quality editions of classic books. It's bound in genuine leather and has a gold colored silk bookmark sew in. There is one color illustration right before the title page. The cover is blue with a gold colored image of Topper in his car stamped in.
Overall, I love this special edition they did of TOPPER. I just wish it was more affordable for the casual reader but since it is truly a limited edition, I understand the economics behind the pricing.
If you would like to order a copy for yourself or for the Thorne Smith fan in your life, you'll need to call Easton Press to place an order. Unfortunately, the book cannot be ordered online. Strange decision on their part that makes no sense to me at all but that's what they're telling me. Almost seems like they don't want anyone to know they've published this handsome book.
To order from Easton Press, call them at: 1-800-243-5160. They are in Connecticut, which is Eastern Time Zone, so keep that in mind when you call.
You will need to tell them TOPPER by THORNE SMITH is part of their Reader's Choice 16 Collection and is Item # 3567. Again, it is $74.95, shipping included.
If you do call and place an order, I'd appreciate it if you told them I sent you. I'm surprised they aren't advertising this anywhere but I wanted to get the word out.
A SPECIAL OFFER FOR THORNE SMITH NEWSLETTER SUBSCRIBERS ONLY
I keep getting asked how to get a copy of the 10,000 word Thorne Smith mini-biography I wrote back in 2000 for Scarlet Street magazine. Unfortunately, that issue is out of print. In fact, the magazine ceased publication in 2007 when my boss at the magazine, owner/publisher Richard Valley, passed away from cancer.
Fortunately, I recently stumbled upon an old box amongst many I hadn't looked at in years and after several moves. Inside were mint copies of that issue I had bought back when the issue was first published.
My initial thought was to just sell them on Ebay where they usually go for $35-50 a copy in mint condition. But then I had a better thought. Why not get them in the hands of loyal subscribers for cheaper than Ebay?
If you're interested in getting one, I created a secret special offer page for you at:
Super Secret Offer For Newsletter Readers Only


Clicking that link will open up a new tab in your browser and take you to a secret page on the Thorne Smith website that can't be reached from anywhere else on the website.
I want you to have first dibs because you've stuck with me through thick and thin all these years and you deserve it.
If you do order a copy and want your copy signed, please send me a note at: michael@thornesmith.net with your name and address so I can quickly find your order. And be sure to let me know who you want the inscription made out to and if you prefer the signature on the cover or the first page of the biography.
On a side note, I could not figure out a way to have PayPal let me put an automatic thank you note to you after you order, so I will be sending you one myself. So, don't panic if you don't see a confirmation email from me immediately. I'll send one as soon as possible and you will get a receipt from PayPal right away.
That just about wraps up this issue but for those who use social media...
OTHER WAYS YOU CAN ENJOY THORNE SMITH
If you use TWITTER, you can follow Thorne Smith there at:
https://twitter.com/Thorne_Smith
If you use PINTEREST you'll find Thorne Smith there at: https://www.pinterest.com/thornesmith/
Please subscribe for free and watch Thorne Smith related videos on YouTube at: Thorne Smith YouTube Channel
I'm still working on a Thorne Smith Facebook page in case you want to interact with other Thorne Smith fans and get your Thorne Smith info while you're there. I'm hoping to have that squared away by the time of the next newsletter. If I get it smoothed out sooner, I'll send a short update to let you know.
So, that wraps up the this issue of the Thorne Smith Newsletter for October 2020.
Thanks for being a subscriber!
Cheers!
Michael
P.S. If you like this e-zine, please do a friend and me a big favor and "pay it forward."
If a friend DID forward this to you and if you like what you read, please subscribe by visiting...
Thorne Smith

Comments? Ideas? Feedback? I'd love to hear from you. Just reply to this zine and tell me what you think!
Thorne Smith Newsletter copyright 2007-2020 by Michael D. Walker
---